Our conversation on the future of publishing with Bradley Metrock, CEO of Digital Book World!
Nakiri Rights launches its blog to discuss and learn from Thought Leaders within the publishing industry
For Nakiri's blog project, our team reached out to publishing Thought Leaders to discuss and learn from their expertise. Nakiri's blog starts with an insightful and warm conversation with Bradley Metrock from Digital Book World. 
Jumping into the Digital Book World 2019 program  
Initiated in 2009, Digital Book World gathers the publishing industry along with tech companies to network and debate. This year, Digital Book World will take place on September 9, in Nashville, Tennessee. Our article explores the work of Digital Book World, discusses publishing rights and new technology as well as the upcoming 2019 edition!
The who's Who of American publishing, such as the National Book Foundation, Book Industry Study Group (BISG), ALLii, Dolly Parton Imagination Library and many more, are expected to attend the DBW 2019 edition. The international publishing community will also be there, publishers like Motovun Group and expert company Dosdoce have confirmed their participation.
The program for DBW 2019 focuses on 6 tracks:
 • Marketing Book World
• Academic Book World
• Data Book World
• Production Book World
• Print Book World
• New Media Book World
Getting to know Bradley Metrock, the orchestrator
Having started in publishing by curiosity, coming from a completely different industry, Bradley Metrock's path before starting DBW is worth the attention! When asked about his debuts, Mr. Metrock starts the story back 11 years ago "In 2008, I started a completely unrelated business that was in the video game retail. In 2013 I sold that business and couldn't rush into something new; I'd had always had an interest in publishing for numerous reasons. During that video game business, I released a book that sort of was strategic to help that business." 
Metrock's interest in publishing led him to start learning new skills but also launching new projects "I started learning Apple's publishing software, iBooks Author, which I found fascinating. One thing turned into another and suddenly, we're creating some interactive content and have a new company, Score Publishing. We were off, running and producing content but also starting a conference for the iBooks community called the iBooks Author Conference. It was great and working well, but we wanted something larger and reached out to several media organizing events."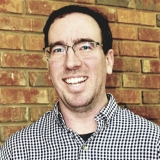 Bradley Metrock, CEO of Score Publishing and owner of Digital Book World
The 2019 edition of the event marks two years under Metrock's management
After rocky starts with DBW owners, media F&W, Metrock acquires the license to produce DBW in 2017. Beginnings with the new acquisition weren't easy as DBW was quite in a delicate situation when Metrock bought it "We had a rehabilitation work to do to have it back on track, and we did it it's hot current and essential, in the very center of the conversation in publishing." For Metrock, what differentiates DBW from other events is the capacity to curate original talks "having an Alexa talk on what's new in publishing is something hardly imaginable outside the US". While discussing together the differences between Europe and American publishers' relationships with tech companies, Metrock wonders if the proximity with Silicon Valley might be the reason why these conversations happen more often in the United States.
Just after two years under the management of Metrock, the "Super Bowl of Publishing"[1] seems back on its feet! Metrock's initiative of gathering publishers, public institutions, non-profits, publishers, public institutions, and indie authors associations to discuss hot publishing topics in Nashville is a commented and expected event for high-end publishing actors. In a sound statement in Talking New Media in 2017 shared the vision he's now implementing "Publishers right now are trying to decipher how best to bring existing content into a world where people interact with computers with their voice first, and keyboards and screens second. Amidst a raft of technologies impacting old media and new media which we'll explore at Digital Book World, this sea change to voice computing." [2]
Discussing the evolution of rights transfer through digital innovation
As we move forward in the conversation, we focus on publishing rights which echoed with the #AudibleGate "What Audible has done with the caption feature is probably one of the most rights orientated story as we go into Digital Book World in a few weeks" Metrock to add, "Is that equivalent to an e-book? We'll get to see what the audience has to say about that." Even though the future is hard to predict, Digital Book World happens at the right time and will offer one of the rare places where parties will debate.
As we're discussing with Metrock, an expert with voice-first technologies, we asked: how could voice technologies be used in rights selling? From our point of view, the Metrock approach of voice-first solutions in publishing rights management is a step forward to being proactive when it comes to rights selling. He also explains how technologies will be crucial for the publishing rights business especially for communication and discoverability matters. He mentions an example "how do you communicate to Simon & Schuster's that the rights of "The Martian" in South Africa haven't been purchased and are still available"?
In Metrock's opinion, classic rights selling procedures can sometimes leave transaction opportunities out. If events are a good way for starters, rights platforms like Nakiri can multiply opportunities to meet with business partners. In the end, the combination of physical and digital approaches – from web platforms to conversational computing - might be what will accelerate rights deals.
What's next and how to attend the Digital Book World conference?
For the years ahead, DBW is planning to keep on strengthening its position and might expand the program to new markets and thematics. Full details regarding Digital Book World 2019 are available on their website.
We thank Bradley Metrock for his enthusiasm and flexibility to arrange this interview! Nakiri will cover as much as possible the event and for those willing to attend, feel free to use, the Nakiri 20% discount when registering using the code NAKIRI!
--
[1] Writers Boon media has used the expression first in an article "Digital Book World: The Super Bowl of Publishing" released on February 21, 2018
[2] Metrock wrote a guest column on "What to expect from the new Digital Book World" in Talking New Media released on October 13, 2017
--
This article has been written by the Nakiri team. Nakiri is the first francophone online rights solution for publishers, literary agents, and indie authors. For all inquiry on this article or Nakiri's solution write to contact@nakiri.co